Our Botswana Outfitter operates photographic and hunting safaris in an area of 60,000 hectares, (approx. 148,000 acres), one of the largest privately owned game ranches in Botswana. We are dedicated to the management and biodiversity of all Kalahari game species including the Cape Eland, Kalahari Gemsbok, Blue & Black Wildebeest, Red Hartebeest and the elusive Southern Greater Kudu. Our Professional staff offers clients the chance to hunt a wide variety of desert game species on the ranch. The landscape covers a variety of desert terrain, including woodland and open veld pan areas. Our Professional Hunters have extensive experience in the Kalahari environment, and the Bushman trackers come from around our area. They have a deep and respectful knowledge of the game & hunting area. Hunting/tracking with the Bushman (Basarwa) in the Kalahari bush veld is an extraordinary experience and a highlight all hunts.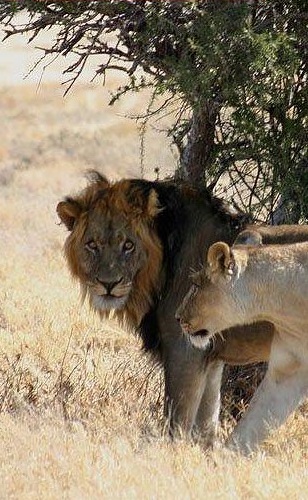 We are located in northern Botswana, with access to the world renowned Okavango Delta. Our land is adjacent to the northwest corner of the Central Kalahari Game Reserve, sharing a common boundary of 48 kms (29 miles), and only a 150km (90 mile) drive by vehicle from Maun to our ranch. Clients are recommended to fly into Johannesburg for the daily flight from Johannesburg to Maun. There is an airstrip at the ranch for light aircraft, should clients prefer to fly their own aircraft or charter. 
The following Species can be Hunted:
• Kudu (Southern Greater) • Waterbuck
• Blue Wildebeest • Black Wildebeest
• Zebra (Burchells) • Warthog
• Steenbok • Jackal
• Eland • Oryx (Gemsbok)
• Red Hartebeest • Springbok
• Impala • Duiker
• Ostrich
The best time to visit is from February through November. The terrain is excellent for all hunters, including those who choose to use a bow as their weapon of choice. Bird hunting is also allowed, with a variety of different bird species to be harvested. There are special seasons for bird hunting, so please
check with us on available dates.
Since our area is a vast expanse under wildlife management, a wide variety of
predators like Lion, Leopard, Cheetah and wild Dog are also present in healthy
numbers on the ranch. The elusive brown Hyena is also found in our area, as well as the bristly Porcupine, and the nocturnal Kangaroo-like Spring Hare.
Photographic excursions are available for non-hunting clients.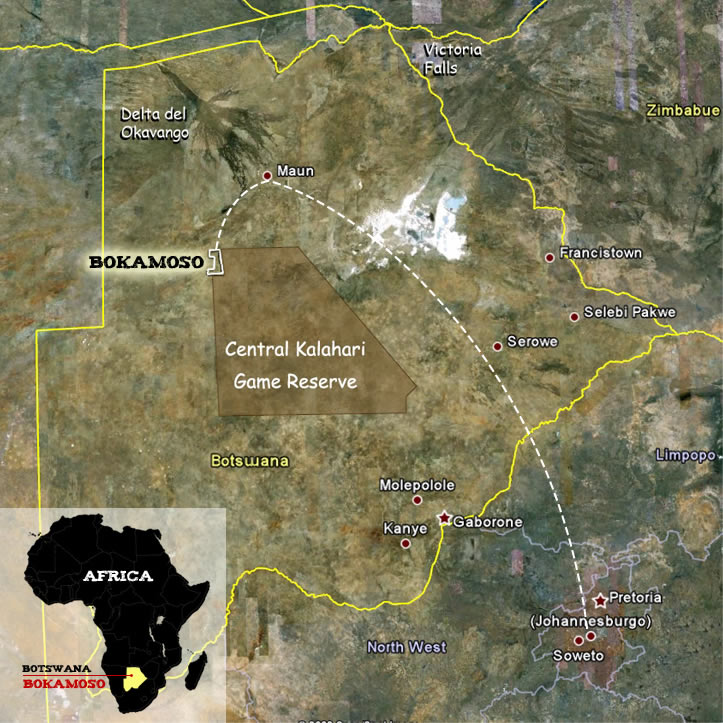 Accommodation/Rooms:
Our ranch offers luxurious, well-appointed camp with 7 thatched bungalows, all with en suite bathroom facilities, including an outdoor shower, 220v charging facilities for cameras, laptops etc. as well as a private terrace for enjoy well deserved sun downers. 4 bungalows have private sitting rooms, and are very tastefully furnished.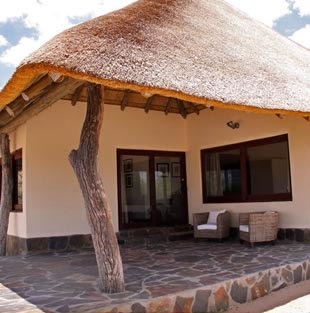 RATES
– US $400 per day – 1x1 – 1 client hunter and 1 Professional Hunter.
– US $300 per day – 2 x 1 – 2 client hunters and 1 Professional Hunter.
– US $200 per day per observer.
SPECIES AND SHOOTING FEES
 Leopard is available on a limited quota! POR
| | |
| --- | --- |
| ELAND BULL/COW | $ 1500 / $ 675 |
| KUDU BULL/COW | $ 1200 / $ 300 |
| GEMSBUCK (ORYX) | $ 1000 |
| WATERBUCK | $ 1500 |
| BLACK WILDEBEEST | $ 1300 |
| BLUE WILDEBEEST | $ 700 |
| ZEBRA | $ 1200 |
| RED HARTEBEEST | $ 900 |
| SPRINGBUCK | $ 350 |
| WARTHOG MALE/FEMALE | $ 350 / $ 250 |
| IMPALA | $ 350 |
| DUIKER | $ 250 |
| STEENBUCK | $ 250 |
| JACKAL | $ 100 |
| OSTRICH | $ 400 |
| CARACAL | $ 1000 |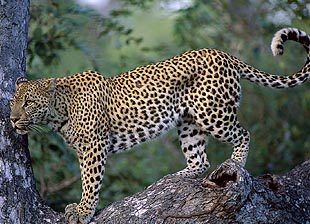 OUR PRICES INCLUDE 
 
1. Experienced and professional hunters
2. Bushmen trackers 
3. Accommodation in luxurious bungalows
4. All the food and beverage during the stay
5. Daily laundry service
6. Treatment and preparation of the camp trophies 
 NOT INCLUDED 
1.  The car trip from Maun to the camp, $ 150 per person (each way)
2.  Firearm importation permit, $ 150 per weapon
3.  Light aircraft rental to get to the camp (if requested by customer)
4.  Hotel expenses prior or after the dates of the contracted safari
5.  12ga & 20ga cartridges (in case of bird shooting) 
6.  Rifles and ammunition rental (if requested by customer)
7.  12% Botswana Government Tax
8.  Taxidermy and trophy export fees
9.  Gratuities