We offer some of the finest big game hunting in all of the southwest, from trophy Elk, Mule and Coues Deer to Mountain Lion & Black Bear. Our staff of professional guides are some of the best you'll find offering full service hunts for the beginning Hunter to the most experienced. 
ELK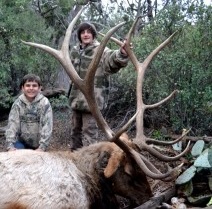 A quick look through the Boone & Crockett and Pope & Young record books leaves very little doubt about the world class quality of the incredible trophy elk hunting that is found in Arizona.
Arizona consistently produces record book bull elk for trophy big game hunters every year and it holds the current Pope & Young World Records for both typical and non-typical Rocky Mountain Elk.
Arizona also proudly holds the current Boone & Crockett World Record for typical Rocky Mountain Elk.
A combination of great trophy elk genetics, good local feed and minerals, coupled with strict trophy elk management by the state of Arizona has created a trophy elk herd without equal.
There are several different seasons and hunting options available if you are interested in hunting trophy Arizona bull elk with our dedicated team of highly experienced professional Arizona elk guides.
MULE DEER
Most serious mule deer hunters dream about having just one opportunity in their lifetime to hunt the high scoring trophy mule deer bucks that call the Kaibab National Forest north of the Grand Canyon and the Arizona Strip home. 
Our hardworking team of professional Arizona mule deer guides will help you to make your Kaibab and Arizona Strip Trophy Mule Deer hunting dreams a reality this year. 
Our dedicated team of Arizona trophy mule deer hunting professionals spends an enormous amount of time preseason scouting on the Kaibab and Arizona Strip and we are constantly seeking to expand our knowledge base and experience in these world famous trophy mule deer units. We are constantly working as hard as humanly possible to locate some of the highest scoring Kaibab and Arizona strip bucks possible for our Arizona mule deer clients. Several of our highly experienced professional Arizona Mule Deer Guides live in St. George, Utah – Fredonia, Arizona – and Page, Arizona which is right in the heart of the Arizona Strip and Kaibab Plateau trophy mule deer country. Having these highly experienced professional Arizona mule deer guides on our team that were born and raised in this legendary mule deer country, and still currently reside full time on the Arizona Strip and Kaibab Plateau, allows us to continually scout and keep tabs on the trophy mule deer bucks in all of the Arizona Strip and Kaibab mule deer units year round.
MOUNTAIN LION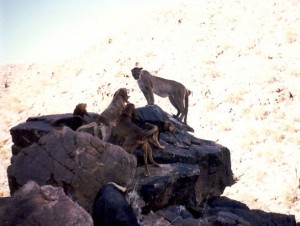 There really are no words that can come close to describing the incredible feeling that comes over a big game hunter when you first lock eyes at close range with one of these magnificent and powerful predators on our guided Arizona mountain lion hunts. 
The thrilling excitement that takes place when a trophy mountain lion is bayed by our highly experienced pack of dry ground lion hounds gives a trophy big game hunter one of the greatest adrenaline rushes that can be experienced while Big Game hunting anywhere on the planet today. 
The roar of the frenzied pack of mountain lion hounds and the excitement of seeing such a large and dangerous predator so up close and personal is a thrilling experience that will never, ever, be forgotten no matter how many more exciting trophy big game hunts you might get to experience in your lifetime. 
Trophy Mountain Lion hunts can almost be classified as a drug of sorts as it is extremely easy to get hopelessly hooked on them for life.
BLACK BEAR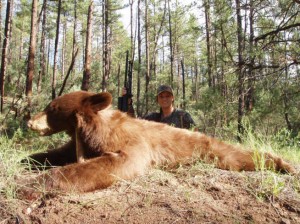 Arizona is a very overlooked state for premium quality trophy Black Bear hunts. Six of the top 14 trophy black bears ever recorded in the Boone and Crockett record book have come from the great state of Arizona and many record book black bears are continually harvested in Arizona every single year. There is a very high population of record class color phase Black Bears that are just waiting for you to come and hunt in the great state of Arizona with us this year. 
A very high percentage of the trophy Arizona black bear population is color phased making Arizona one of the premier trophy bear hunting destinations in the world if you are looking for your next trophy color phase black bear hunts. 
A very exciting feature about our Arizona trophy color phase black bear hunts is that most all of the Arizona bear hunt tags and licenses are available for purchase over the counter and do not have to be drawn. You can start planning your very own trophy bear hunt with us this year and not worry about having to wait to draw a tag. 
We guide and outfit serious trophy big game hunters to trophy class black bears annually in the great state of Arizona. We are hard working, highly experienced, and dedicated Arizona black bear outfitters that will give you a 110% effort every single day on your trophy black bear hunts of a lifetime. Arizona is usually the very last place in the world that most big game hunters think of when planning a trophy bear hunt but the Copper State continually produces some of the very finest black bear hunting in the world. Combine the record book size that Arizona bears can often reach along with the very high concentration of color phase bears that Arizona has and you have the perfect recipe for the trophy black bear hunt of your lifetime.
COUES DEER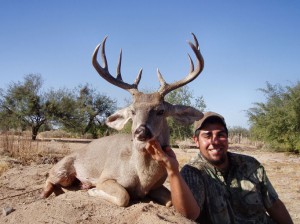 Many of the serious trophy deer hunters around the world that have taken all of the species in the "North American Deer Slam" usually consider the Coues Deer to be the most rewarding and beautiful trophy of all of the deer species found worldwide. 
It's pretty easy to agree with the opinions of these trophy deer hunters from around the world once you have experienced a trophy Coues deer hunt. Coues whitetail deer are one of the most beautiful and challenging trophy big game species available to hunt today. 
Aptly nicknamed the "Grey Ghosts" of the desert, the beautiful Coues whitetail deer that are found in the Southwestern United States and Northern Mexico are widely considered by most trophy hunters to be the most elusive and wariest members of all of the North American deer species.
Trophy Coues Deer hunts present trophy deer hunters with a very unique, exciting, and demanding deer hunting challenge that can only be found in the state of Arizona, Old Mexico and the state of New Mexico. Coues deer exist in very high densities in Arizona and in Old Mexico and make for a very exciting and non stop action trophy deer hunt.
Typically, we can usually glass up and locate up to 30 or 40 Coues deer on a good day during one of our trophy Coues deer hunts in our prime hunting areas in the state of Arizona and Old Mexico. Unlike Desert Mule Deer, which mainly exist in very low numbers and densities across most of their habitat, Coues Deer are quite the opposite. Coues Deer can be found in very good numbers in most of our trophy Coues Deer hunting areas in the Arizona and Old Mexico desert country and make for a very enjoyable and very fun filled trophy deer hunt with numerous Coues deer being sighted and observed daily. Wouldn't you like to be a part of this fast paced Coues deer hunting action? Come join us on a fun and exciting trophy Coues deer hunt in Arizona or Old Mexico this year.
Gray Ghost Safaris (615) 860-4333 or contact us at our contact page!