World class hunting in a world class destination!
Option #1 Big Game Hunting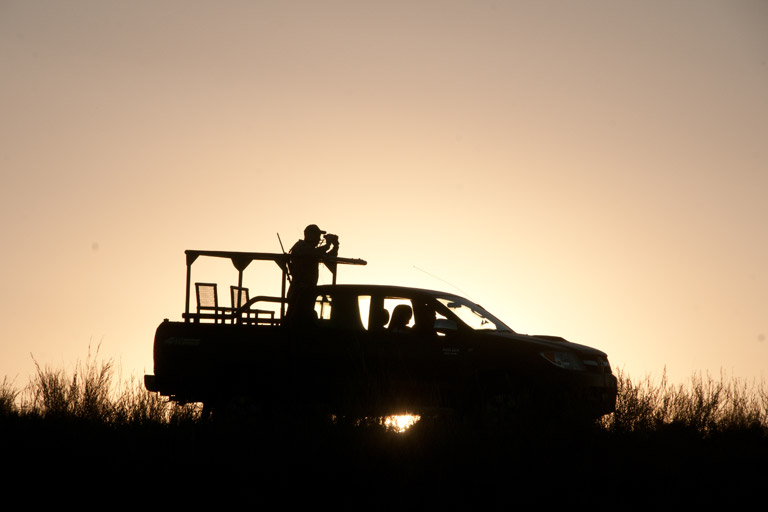 Hunting is what we do. It's what we are all about. That's why we can provide you with one of the best free range full-service hunts at our family owned La Mota ranch in La Pampa province, Northern Patagonia, Argentina.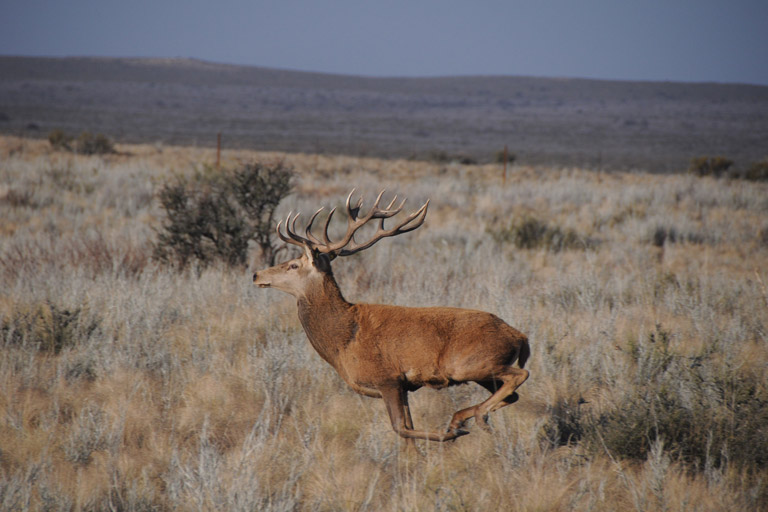 We offer Red Stag, Indian Water Buffalo, Blackbuck Antelope, Puma* Axis/Chital & Fallow deer, European Mouflon, Four Horned, Dorset, Scottish Blackface, Texas Dall, Somali & Hybrid Sheep. African Pygmy, Fernandez Island Goats. Wild Boar and more. Dove, wild Pigeon and ducks in uncountable numbers. *Puma cannot be exported to the USA.  
Everyone at La Mota will go the extra mile to ensure that all of our guests leave the ranch with fond memories that will last a life time. For those guests not interested in hunting we also offer other outdoor activities such as horseback riding, photo safaris, and hiking that will allow non-hunters to enjoy one of the most beautiful hunting destinations in Argentina. 
Come and enjoy great hunting with knowledgeable professional guides, world class accommodations, outstanding food and wine, and the warm friendly service provided by our attentive staff.
Meals: We include full board (breakfast, lunch and dinner) for hunters and non-hunting companions. You will enjoy the delicious typical Argentine dishes, especially BBQ'd meats, as well as the finest wines from Mendoza and Patagonia. Both lunch and dinner include assorted beverages (bottled water, beer, soft drinks and wine) free of charge. We also offer a get-together by the bonfire before dinner, where everyone enjoys delicious regional products while sharing unforgettable anecdotes.
Bedrooms: Each detail has been carefully planned so that your stay would be as pleasant as possible, large rooms with private bathrooms await you for a very well deserved rest. We also offer 24 hour in room laundry service.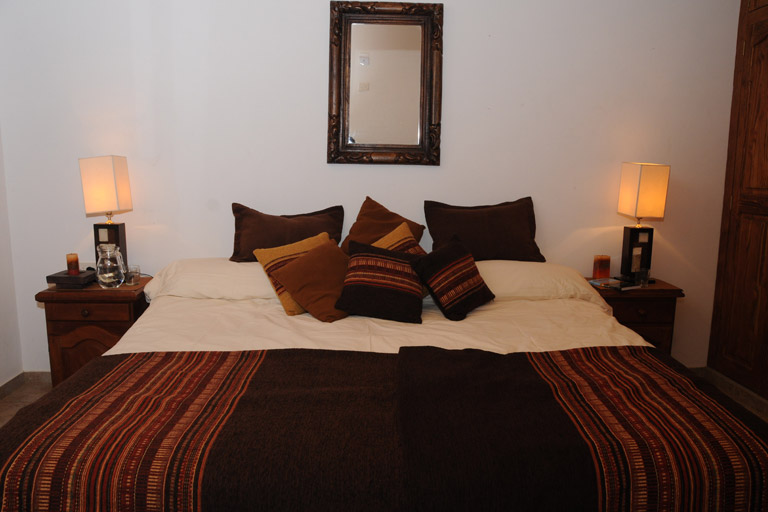 Hunting Facilities: We have 14 feet high hunting stations that look over the fields, offering the hunter a privileged view and an unbeatable place to hunt. These modern towers are equipped with an elevator to make access easier, especially for those people with reduced mobility. The stations have heating, a bed, seats, a stove and are carpeted. We have created a comfortable space with the purpose of making long waits more comfortable.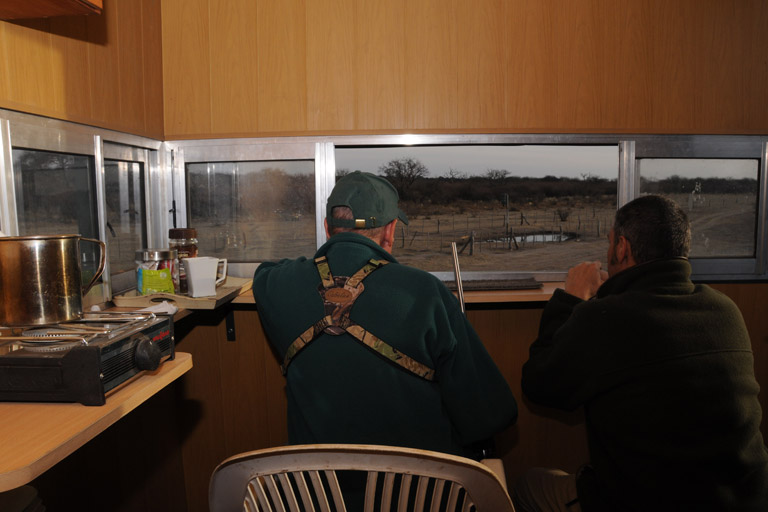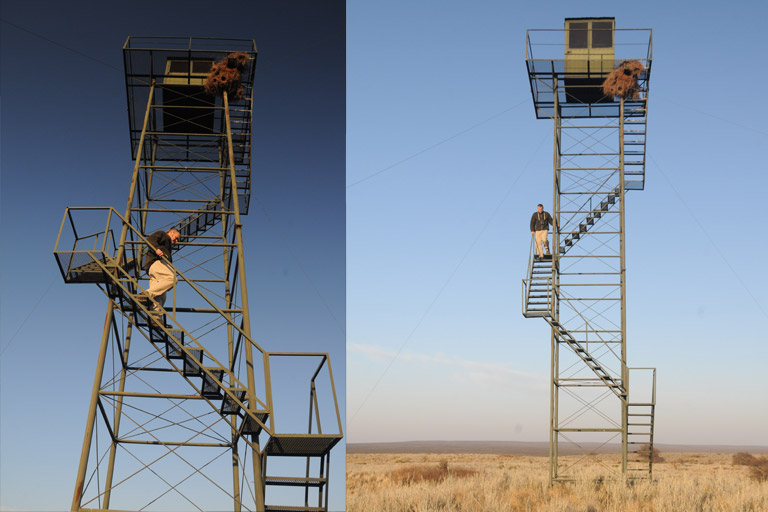 Handicap Facilities: We pay attention to every detail, this is why our Hunting Ranch counts with facilities for people with reduced mobility. We have set up special blinds with lifts to accommodate hunters who need the use of a wheelchair. 
Power lift for wheelchair's.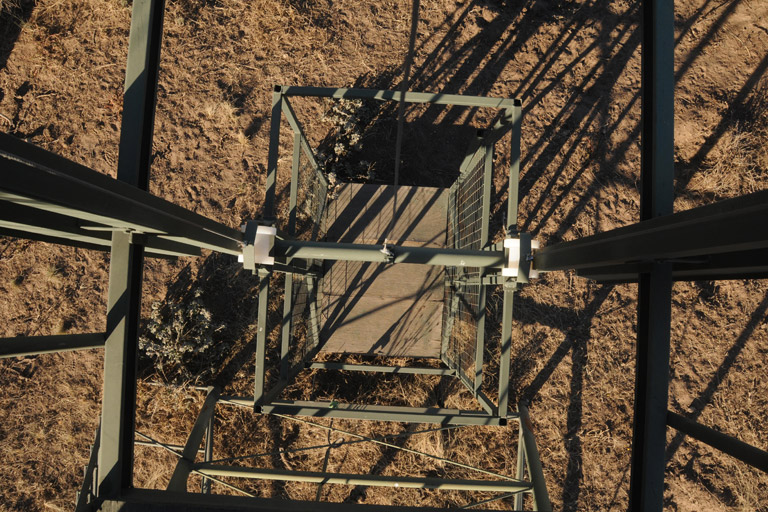 Other Activities
More and more, traveling to exotic destinations to hunt and experience the local customs and culture of the local people is becoming an activity that is enjoyed by both hunters and non-hunters alike. With this in mind, We have developed a program of non-hunting activities that is designed to provide those in the group who do not wish to hunt with an opportunity to experience and enjoy the natural beauty that is found in the wild places on the pampas. Activities such as horseback riding, hiking, photo safaris, observing and participating in everyday gaucho activities and cooking lessons with the local chef allow the non-hunter to truly appreciate the beauty of their natural surroundings as well as experience the customs, culture, and way of life of the local people.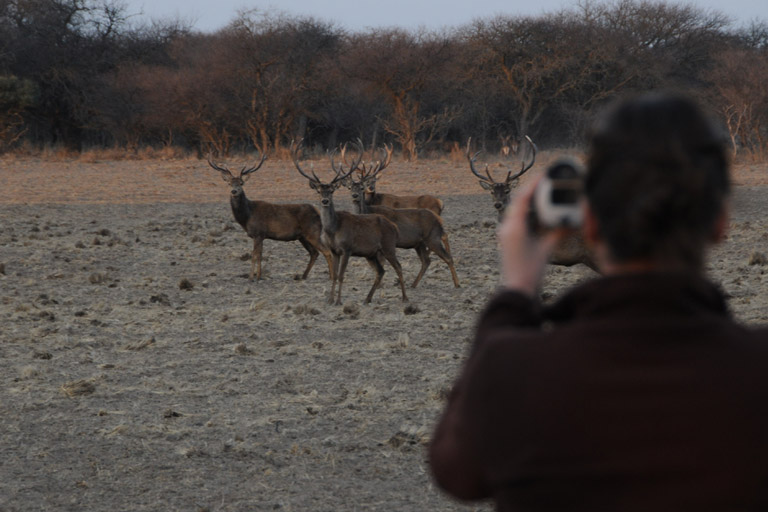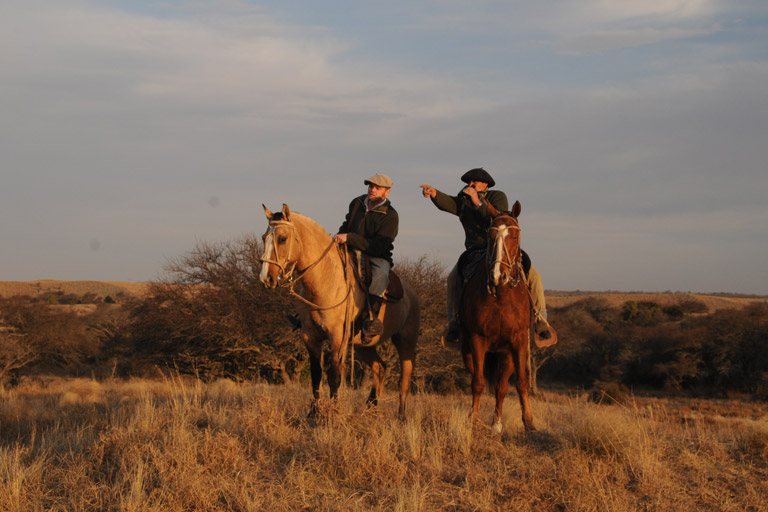 Transport
Our organization will greet each hunter coming from abroad at the Ezeiza International Airport, in Buenos Aires, Argentina. At that point, we'll help you with customs by clearing your weapons and assist you with anything else you might need.
 Gray Ghost Safaris: 615-860-4333 or use our contact page to send an email
ARGENTINA BIRD HUNTING: WORLD CLASS! 
Option #2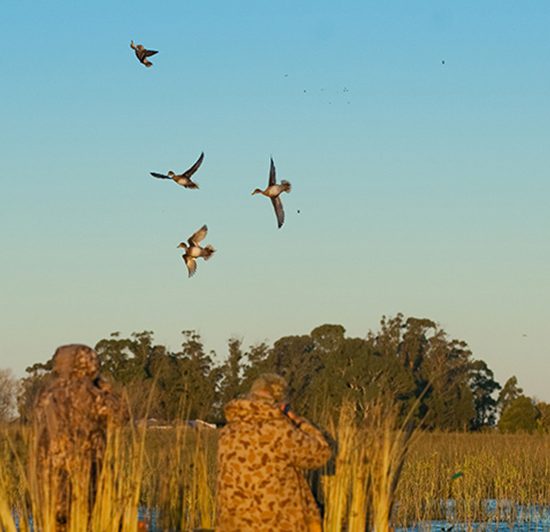 Ideally located in the fertile Pampa region in the province of Buenos Aires, our area is home to an incredible duck population. Our hunts take place on the numerous potholes, lagoons, marshes and sloughs that surround the lodge. Increased rainfall and agricultural production over the past 15 years in this region have created ideal waterfowl conditions by providing hundreds of marshes of varying sizes that serve as feeding and roosting areas, all of which is surrounded by grain fields. The duck hunting areas at and around our Estancia are conveniently located close to the lodge with drive times from 10  to 50 minutes. Several blinds are within view of the house and require less than a 10 minute drive.
Chiloé Widgeon, Teal (Silver, Ringed, Speckled, Cinnamon and Brazilian), Yellow Billed and White Cheeked Pintail, Fulvous and White-Faced Whistling Duck and the country's trophy duck, the Rosy Billed Pochard. Although weather, blind location, and water levels determine the makeup of a day's take, many hunters' bags may consist of 7-11 different species. Hunting blinds are always dry, have stools and provide sturdy footing from which to shoot. We utilize the best equipment to maximize your hunting experience and are constantly striving to improve our methods.
Also available are Perdiz shoots. This upland, Chukar like game bird, flushes in singles and pairs and provides a challenging target. Conducted over Pointers and Brittany Spaniels in terrain similar to that of South Texas (minus the cacti), the Perdiz complement the ducks by providing a more active, on-foot hunt.
Typically our daily schedule includes a wholesome breakfast at the lodge, followed by a morning shoot. After finishing your shoot around 10:00 AM (this varies), you will return to the ranch for lunch and a well-deserved siesta. Then out for more afternoon shooting until dark. Dinner finally caps off a perfect day. 
DUCK FIELDS: morning and afternoon: from 10 to 50 minute drive from the lodge.
PERDIZ FIELDS: morning or afternoon – 10 to 50 minute drive from lodge.
PIGEON FIELDS: afternoon pigeon shoots are possible if scouting reports are good – drive time is 30 to 45 minutes from lodge.
Cost is: $1,210 per day
Gun rental: $65 per day per person. We have an excellent selection of guns available for rent at the lodge
Hunting license for Buenos Aires Province: $65 per person
Included
– … days / … nights in a double room.
– All food and drinks with fine wines, beer and open bar
– Daily gun cleaning.
– Professional hunting guides.
– All ground transfers between the lodge and the hunting fields as required by itinerary
– WiFi internet at the lodge
– Laundry service at the lodge
Not Included
– Charter flight. Cost shall be prorated between hunters. 
– Shells: $17 per box
– Gratuities at the lodge for guides and lodge staff: we suggest $60 per day/per person payable at the lodge
– Extras at lodge such as available massages, "lodge shop" purchases, phone calls, etc.
– Additional travel services in Buenos Aires such as transfers, tours, etc.
– Travel Insurance: We highly recommend travel insurance. An excellent choice is Travelguard – www.travelguard.com / 1-800-826-4919
For some world class duck, dove, perdiz and pigeon hunting in the world, contact us for more information, references or details on our free range trophy Red Stag hunting or outstanding fishing in various Argentina rivers!
LOCATION
Getting there is easy. The lodge is located 250 miles from Buenos Aires and 45 minutes from the small city of Pehuajo.
Travel time to the ranch is approximately 4 1⁄2 to 5 hours from Buenos Aires by ground transfer or 1 hour 15 minutes by private air charter. There is a 1,000-meter grass landing strip on the property, which allows for many charter planes to operate (Cessna 402, Piper Navajo, Cessna Caravan among others). There is a 1,500 meter paved landing strip in Pehuajo for Metroliners or private jets. (Pehuajo is about a 45-minute drive from the lodge).
Check with us for charter options and pricing.

World Class Fishing
Option #3
Limay River
Probably the richest fishing resource in Northern Patagonia, the Lower Limay River offers unique fly-fishing opportunities for the international angler.
This is an outstanding tail-water fishery that flows out of Pichi Picun Leufu Dam guaranteeing consistent flow, temperature, clarity and cleanness at all times. The Lower Limay River runs eighty (80) km along the semi-arid Patagonian high steppe into the huge fertile lake formed by El Chocon Dam. These are features that make the Lower Limay extremely unique;
– The fact that it is a tail water fishery ensures profuse underwater life of all sorts and a variety of daily hatches generating ideal conditions for super healthy populations of resident strong brown and rainbow trout that will take dries on the surface like there is no tomorrow.
– The fact that it flows into a gigantic fertile lake makes for the possibility of hunting enormous migratory brown trout that will swim up the river during the season.
These make for a unique combination of action and excitement. You can fish dries on the surface all day long and/or you can dredge the bottom with fast heavy sinking heads and large weighted streamers if hunting huge fish is your focus. Large browns and turbo charged rainbows in the 20 to 24-inch range, big game fly fishing for the monster brown of your lifetime.
The Lower Limay River is a huge body of water with numerous channels offering some of the most challenging and rewarding fly-fishing experiences in Patagonia, the best fly fishing resource in the entire region of Patagonia.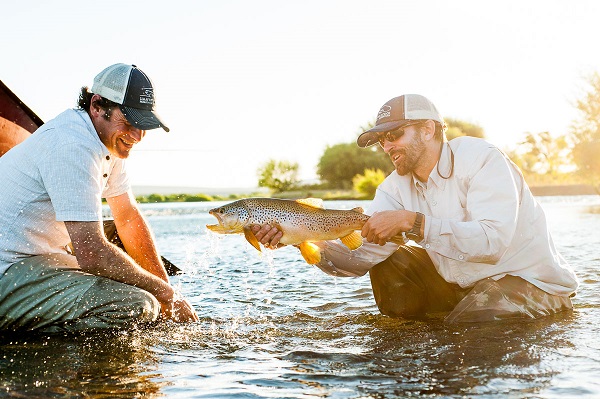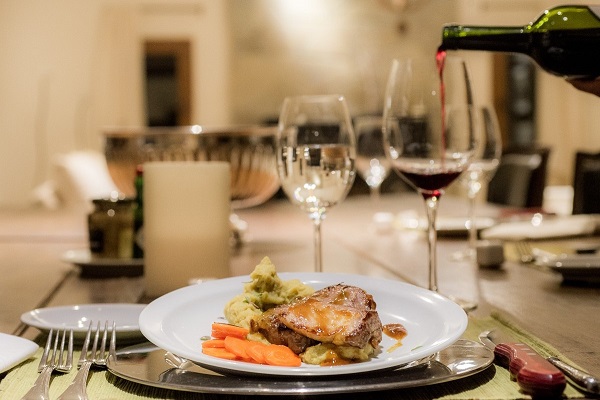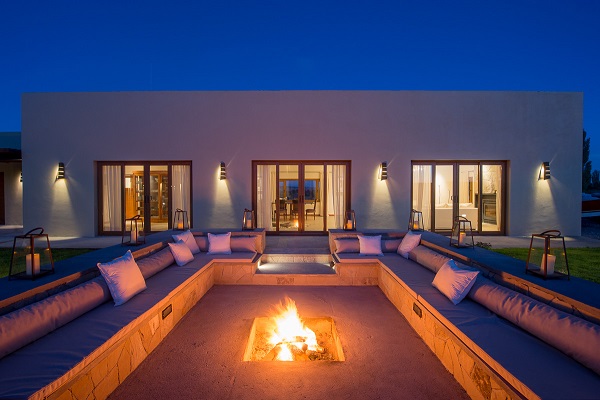 Accommodations
Limay River Lodge is a true luxury eco lodge in the Patagonian wilderness along the banks of the incredibly productive Middle Limay River in Northern Patagonia featuring world class accommodations and international 5-star cuisine. This brand new lodge with seven rooms with en suite bathrooms is to be opened in November 2014 and to become the very first lodge on Limay River.
Services
✓ Large outdoor fireplace and entertainment area.
✓ Wi-Fi Internet service
✓ Fleet of Drift Boats
✓ Fleet of new Toyota Hiluxes and Ford Rangers
✓ Fly fishing equipment
✓ Professional fly fishing guides
✓ Private transfer from the lodge to all fly fishing areas
✓ Meals , drinks & fine argentine wines during your stay
✓ Private transfers from and to local airports
Activities
✓ Trekking and bike ride
✓ Bird and wildlife watching
✓ Cooking lessons
Limay River is located in Neuquén Province across the River from the town of Piedra del Aguila, in Northern Patagonia. Our fishing area is half way between the cities of Bariloche and Neuquén on the southern bank of the Middle Limay River, just 150 miles from Neuquén, Bariloche and San Martin de los Andes Airports.
Daily commercial flights from Buenos Aires to Bariloche and Neuquén Airports will get you here while San Martin de los Andes Airport offers daily flights on January and February only. Flight time from Buenos Aires is 2 hours.
Our guides will meet & great you at any of these airports and drive you to the lodge or fishing area. 
WEATHER 
Limay River offers spectacular fishing from November to April. Check weather conditions here
We also fish the Chimehuin & Malleo rivers
The Chimehuin River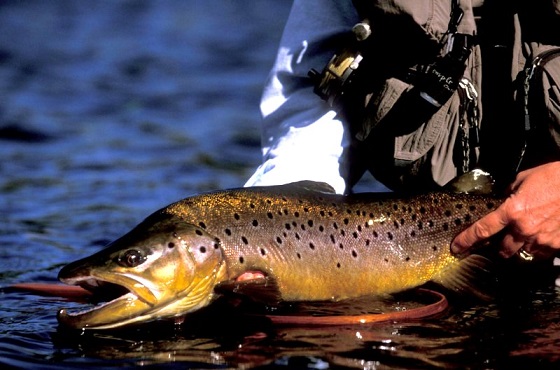 The Chimehuín was probably the first Patagonian River to become world famous, it put Argentina on the fly fishing map of the world. Fifty (50) miles long, this river has been explored by fly fisherman that nearly every important pool on the river has been given a name. It is a large stream with a moderate gradient. In some sections it braids into several courses and in others it has carved long, deep channels into the valley floor.
Stories of great rainbows and monster browns were told and heard of repeatedly which made the Chimehuín became a legend. Today the Chimehuín offers superb dry and wet fly fishing. It is challenging yet very rewarding. Big browns are regularly caught as well as big surface feeding rainbows.
While fishing this formidable river, we also fish stretches of the smaller Quilquihue River. For those who love dry fly fishing and matching the hatch the Quilquihue is fun to fish. As it connects the prolific Lake Lolog with Chimehuin River across beautiful Rolling Meadows this river sustains very healthy rainbows and brown trout population. It is the 'right size' river to wade and cast.
Enjoy some of the best float you can experience in the area. You may float down from one lodge to the next.
THE FISHING
Jorge Trucco is one of the true Malleo fly-fishing pioneers as he was probably the very first one to actually view the real potential the Malleo had for the international angler. Jorge spent many years of his life scouting, fishing and guiding in the Malleo and was the real driving force that finally turned the Malleo into a total "catch and release" river by law. All of that experience has been passed on to Patagonia Outfitters' guides who know the Malleo River like their backyard and will share their deep knowledge of this river with you.
The Malleo may be the perfect river for beginners, being able to cast comfortable distances and being exposed to numerous fishing situations on dries or nymphs. Yet the Malleo is a delight for the expert fisherman that takes pleasure sight fishing for big elusive rainbows feeding on small dries or nymphs in very difficult places.
The Malleo may be the truly complete river. It has diverse conformations: from its scenic meadow section, with the Lanín Volcano dominating the background, to the canyon section or the lower boulder-free stone section, which offers pocket water and willow-lined banks. It is just the "right size" river to fish and wade and you will always see hatches of different types: caddis and mayflies of various kinds, as well as stoneflies and midges. This river offers the fly fisherman sight-fishing opportunities along its twenty (20) kilometers. It is like fishing in a textbook, the classic way.
Accommodations

San Huberto lodge not only is a fantastic guesthouse but it offers access to some of the best stretches on the Malleo River. Hosted by its owners who, together with the lodge's staff, make sure that everything runs like clock-work. The lodge has accommodation for sixteen (16) guests in double and single rooms each with their private bathroom. We limit our rods up to twelve (12) per group. Its planned daily menu is based on fresh and organic produce from its very own vegetable garden and livestock ranch.
Services
✓ Wi-Fi Internet service
✓ Laundry services
✓ Massages
✓ Jacuzzi
✓ Fleet of Drift Boats
✓ Fleet of new Toyota Hiluxes and Ford Rangers
✓ Fly fishing equipment
✓ Professional fly fishing guides
✓ Private transfer from the lodge to all fly fishing areas
✓ Meals , drinks & fine argentine wines during your stay
✓ Private transfers from and to local airports
Activities
✓ Trekking and bike ride
✓ Horseback riding
✓ Tennis
✓ Bird and wildlife watching
✓ Spa Programs
✓ Shopping & sightseeing tours
✓ Golf